The Hero's Journey is a classic story structure,
and it applies to the lives and careers of cops. Let me explain...

By Ed Wojcicki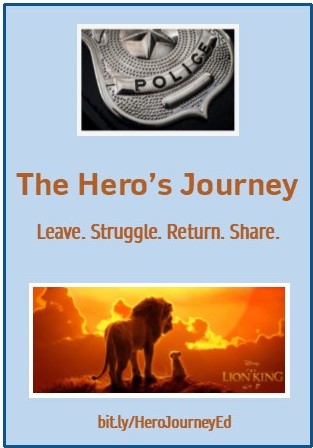 Cops shun the "hero" label,
but they proudly wear a badge,
and they can benefit from learning how their careers,
driven by service and sacrifice,
follow an astonishing resemblance to the classic hero's journey
as it unfolds in every culture and every genre.


HOW THIS JOURNEY APPLIES TO COPS

Part 1:
Applying the three basic stages of the hero's journey to cops (Command magazine, December 2019)
Part 2:
A life of service and sacrifice, with no guarantee of a happy, tidy ending (Command, June 2020)
Part 3:
Nurses, docs, and cops are living "the classic hero's journey" during the COVID-19 crisis (April 9, 2020)
Part 4:
Why Mentors Matter (Command magazine, Fall 2022)
ILACP leaders fondly recall and list 23 of therir mentors  (Command magazine sidebar, Fall 2022)
 POPULAR APPLICATIONS OF THE HERO'S JOURNEY IN MOVIES AND STORIES:
Regular podcasts that look at the hero's journey in movies
The journey explained in Star Wars, The Wizard of Oz, and Harry Potter (with movie clips, 11 minutes)

The Hero's Journey in five Disney movies (2014) 
The heroines in Hidden Figures, analysis by Ed Wojcicki (2016, 2020)
Analyzing 6 movies, including Star Wars, The Matrix, Harry Potter, and the Lion King (infographic)
The Wizard of Oz analyzed on Prezi by Nichole Patel

"The Hero's Journey in Film" by Ciaran Michael Vejby considers about 90 movies (vimeo)
Even the Grateful Dead were influenced by Joseph Campbell and the hero's journey
WHAT IS THE HERO'S JOURNEY?