Federal Use of Force Update
We received correspondence from the USDOJ/COPS Office on December 1
st
that Federal Use of Force Certification would
not be required
for federal grants in FY24 and that the USDOJ would be updating various standards and moving towards encouraging accreditation in FY25 (more information to be forthcoming after the new year).  Based upon our conversation with the USDOJ/COPS Office, certification was/is required for FY23 federal grants. With that said, an agency most likely had to provide proof of certification when they applied for FY23 grants, and if they were certified at the time of application, they should be good.  Any questions should be addressed to the grant authority. 
We are in conversations with ILEAS and ICJIA about how this may
or
may not affect state grants including the upcoming Less-Lethal Taser grant that requires updated Federal Use of Force Certification.  As you may recall, our use-of-force certification service looked at not only the federal mandates required by Executive Order #13929 (which has been rescinded) but also optional criteria that embraced best practices, along with the major operational requirements of the SAFE-T Act and was recently updated to show compliance with the UN Human Rights Guidance on Less-Lethal Weapons. 
Currently, we are waiting for guidance from ILEAS and ICJIA before processing any additional certifications. 
We will keep you posted regarding additional information regarding the upcoming less-lethal grant as it becomes available.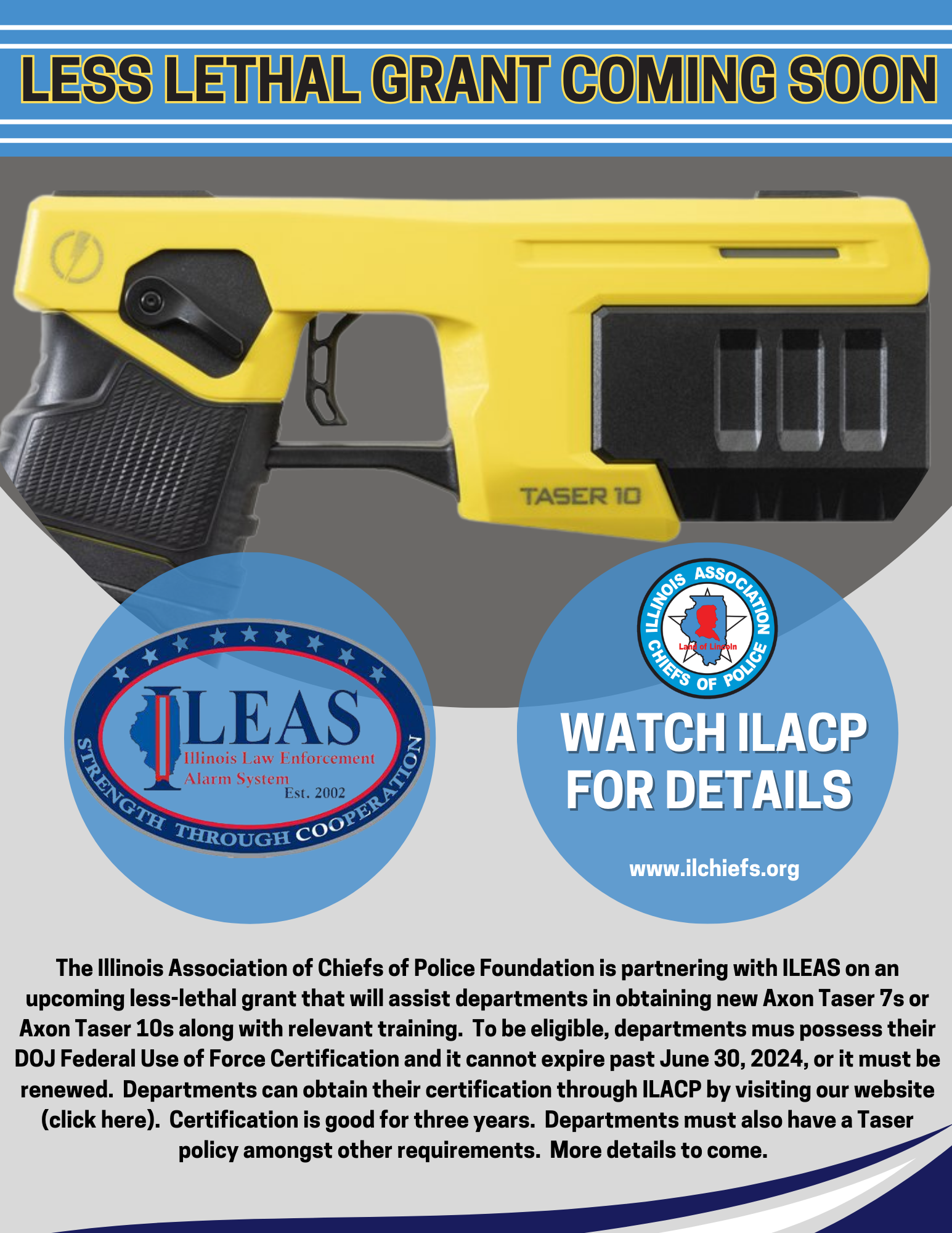 Download the ILACP Mobile App Today!
Connecting PIOs Across Illinois
The ILACP has formed a special PIO Section to help connect PIOs from across Illinois. We're looking to get at least one representative from each department.
 For this first year, it's free to join the section! Find out more here: https://www.ilchiefs.org/pio-section
This will be a tremendous resource should anyone in your agency need to reach out to other PIO professionals for advice or assistance. One of the section's aims is to create a crisis communication assistance plan among the PIOs in the section. This will create a buddy system of sorts if a crisis arises, and a PIO needs help. The hope is that person will have a PIO living in a nearby community who can come to their aid if needed.
There will also be an open forum amongst the PIOs in the section for any questions, comments, concerns, or advice.
We Never Walk Alone Partnership
The Illinois Association of Chiefs of Police Foundation has entered into a partnership with the 
We Never Walk Alone
 program. We will be working together on a First Responders Wellness Initiative. Find out more about We Never Walk Alone by
 clicking here
.
Donations to We Never Walk Alone can be mailed to 426 S. 5th St., Springfield, IL. 62701 or done electronically by
clicking here
or using the QR code below.