East Peoria patrolman named
by Illinois police chiefs' association
as 'Most Outstanding Officer of the Year'
July 21, 2021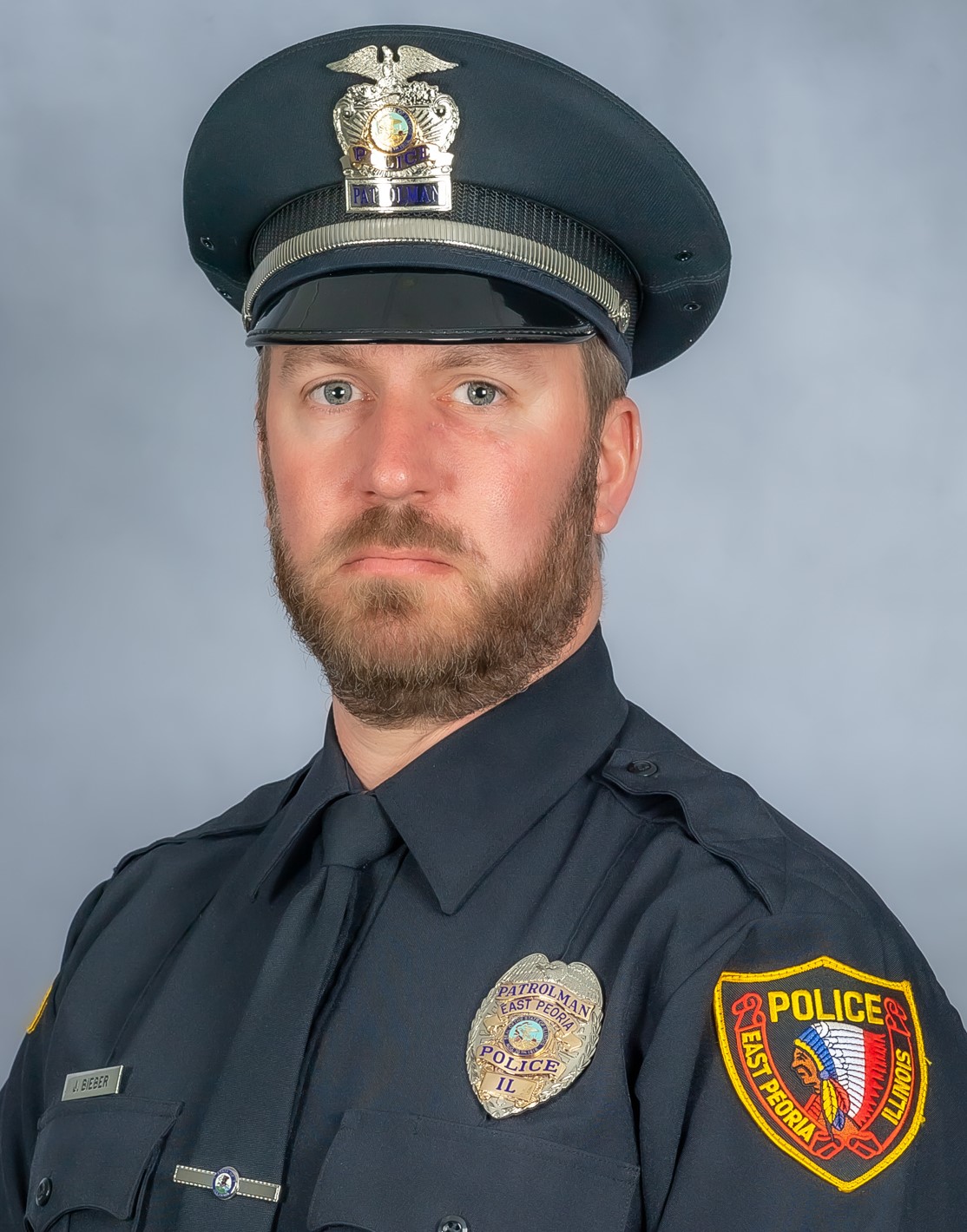 SPRINGFIELD – Patrolman Jeffrey A. Bieber of the East Peoria Police Department has been named as the 2021 Most Outstanding Law Enforcement Officer of the Year by the Illinois Association of Chiefs of Police. He will be honored August 20 at the ILACP Annual Awards Banquet in Tinley Park, Illinois.
He was nominated for a Medal of Valor by East Peoria Chief Rich Brodrick. "But when our Awards Committee reviewed the nominations, it recommended an even higher honor, Officer of the Year, because of Officer Bieber's bravery and sacrifice in a very intense encounter," said Ed Wojcicki, ILACP Executive Director. The ILACP Board of Officers agreed with that recommendation.
On February 2, 2021, Officer Bieber was responding to a domestic disturbance in East Peoria when he heard that the suspect had left the scene in a truck. Officer Bieber passed a vehicle fitting the description and followed it into a CVS parking lot. The driver and a passenger both got out of the truck. When Officer Bieber first engaged the driver, later identified as Joshua Crites, Bieber noticed blood on Crites' hands and offered to get medical assistance.
Crites was initially compliant and docile, but soon enough pulled out a knife and attacked Officer Bieber. Bieber attempted to back away, and he deployed his Taser, but those efforts were unsuccessful in stopping Crites from attacking and stabbing Officer Bieber in the head and neck multiple times, damaging nerves and hitting an artery, causing the officer to bleed profusely. Bieber ended up on his back with Crites on top of him. Officer Bieber was able to get to his firearm and discharge it successfully, ending the confrontation. Crites died on the scene.
Officer Bieber was taken to a local hospital with very serious injuries and spent several months recovering before finally returning to work. Chief Brodrick praises Officer Bieber not only for his sacrifice during and after the incident, but for being an outstanding officer serving and protecting the citizens of East Peoria every day.
"This is one of those scenarios that can happen to any officer in any part of Illinois on any day," Wojcicki said. "In fact, officers in Illinois face levels of noncompliance on a daily basis and are victims of physical and verbal violence. Bieber used his training to attempt less-than-lethal responses such as creating distance and deploying his Taser, but ultimately the situation put Bieber's life in grave danger." The Tazewell County State's Attorney's Office determined the shooting to be justified after an investigation by the Illinois State Police.
Officer Bieber began his career working with the Tazewell County Sheriff's Office working as a correctional officer full time in 2007. In August of 2008 he began working for a small rural community (Hopedale) as a part-time officer, attending Illinois' Part Time Police Academy. He was hired full time in May 2011 by the City of North Pekin, attended the Police Training Institute's transition course for full time in Champaign, and worked for North Pekin until he was hired by East Peoria on November 16, 2012. Officer Bieber's unique life experiences help guide him in his daily endeavors of service to the city and its citizens. "Officer Bieber exemplifies honor, courage, dedication, and humbleness," Chief Brodrick said. "He always has a kind smile and a great sense of humor."
For his bravery and sacrifice, the Illinois Chiefs name Bieber as the James J. Wade Most Outstanding Law Enforcement Officer of the Year for 2021. James J. Wade was the police chief in Tinley Park when he died suddenly at the age of 52 in 1994. Shortly after that, ILACP decided to name this prestigious award in honor of the late Chief Wade.